Press Release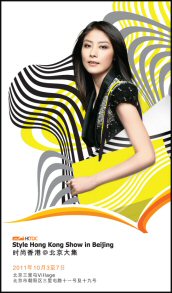 WHAT:
The show is a chance to catch the latest Hong Kong trends and innovations at an event promoting Hong Kong lifestyle products and services.
WHEN: 3-7 October 2011
WHO: Hong Kong exhibitors will showcase products in the following categories: electronics and electrical appliances, watches and clocks, gifts and premiums, fine jewellery, fashion, fashion accessories, fashion jewellery, food, cosmetics and healthcare products.
WHY: Hong Kong is China's most sophisticated city and is seen as a leading trendsetter by Southeast Asia's middle-class consumers.
Business-matching sessions to be organised during the event will offer opportunities for mainland-based companies to partner with Hong Kong brands interested in breaking into the mainland market.
WHERE:
Sanlitun Village, Beijing, China
Shanghai 2010 - Hong Kong designer Lu Lu Cheung's collection is inspired by volcanic eruptions
– of lava, granite and smog. The designs are meant to reflect the strength, confidence and gentleness
of
contemporary city women. (Photo by HKTDC)
Lu Lu Cheung
(Photo by HKTDC)
Hidy Ng's "Stars Sparkle Tonight" collection showcases images of sophisticated women at work in
a glamorous Hong Kong environment.
(Photo by HKTDC)
The collection includes three unconventional wedding gowns.
(Photo by HKTDC)
Henry Lau
(Photo by HKTDC)
Henry Lau's "Frozen Beauty" portrays the cool beauty of Hong Kong's Central District after dark. Mr Lau's collection includes party and evening wear in black and a range of dark colours, with shiny accessories depicting Hong Kong's glamorous nightlife. (Photo by HKTDC)
Style Hong Kong Show in Shanghai, 2010 (Photo by Campaign China)